Hi gang...
I cant believe the last freebie was on Wednesday! How time flies!
I didnt realize how many days went by already! It blows my mind!
Well..I hope you guys think its worth the wait. I was going to just
put the scraps in one zip and call it a day, but I know there are
people out there still on dialup and downloading larger files can be
a pain in the rear..so I opted to go ahead and make seperate zips.
And..put one zip a day..no worries..its only a matter of 2 days : )
The preview pic shows what this freebie is going to look like.
Tonight I will post the papers first...elements tomorrow.
here is the preview:
"Crochet in single stitch"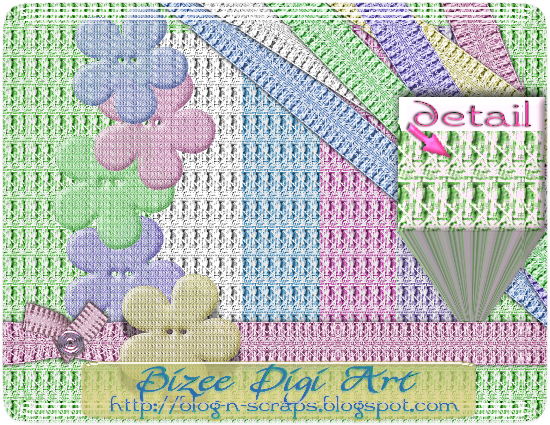 get the papers...
HERE
4shared really gets on my nerves!!! How is it
they need to rework their filters..it said that my
file is "suspected" of "illegal or copywrite" crap..
ITS MY OWN WORK!!! nothing illegal or no copy-
writes are violated in my work! Grrrr!!!!!

Anyways...I replaced the link with a link from
my Divshare acct. I think I might start using
my other accts. I have prenium accts with 3
different file hosting sites...so why am I going
thru this nonsense? Tomorrow I will post info
about those file hosting sites..I think more than
likely some of you will find them useful to use.

OK...second part..I think this will make up
for the annoyance that 4shared caused.

Part 2...Buttons and Ribbons!!!!
(see the preview image above)
get them....HERE

By the way..I fired off an email to
4shared about this..lets see what they
say...!
My apologies for the inconvienance

Good Night gang!